Latest News October 2017
beloved punks,

so lets get this thing started. we got the JOTNARR / AUREOLE OF ASH split 7" from the press yesterday. preorders are already shipped. everyone else get in touch now or make sure to get a copy at one of the shows on AUREOLE OF ASHs upcoming tour.

there are finally some new tunes from LETTERS TO CATALONIA and – once again – these songs remind me of how i fell in love with that stupid screamo / emoviolence thing back in da days . something that can trigger your frustration and sadness just to offer you an equally punishing release ! tape is coming very soon. help out with a preorder if you feel like it :) listen here : https://reactwithprotest.bandcamp.com/album/letters-to-catalonia-fragmantary

… still waiting for the final master for that JOTNARR LP...

the tapes for the REPUBLIC OF DREAMS 2012-2016 discography got lost in the mail … hope this get s sorted soon.

thanks for your interest. back to the autumn blues …. xxx
view all news
New Distro stuff
letters to catalonia - fragmentary tape
3 new songs from this outstanding emoviolence outfit. Ffo: orchid, jeromes dream and joshua fit for battle

ashkara - in silence 12"
ASHKARA features ex-members of long going switzerland Crustpunk institution CWILL and play down tuned and dark, atmospheric and moody HC/Punk or modern and slowed down Crustcore with a urge to sink you into a dark abyss... The use of a violin in most songs adds alot to the moody atmosphere and is a...

asthenia / akallabeth - split 7"
split 7″ between Japan's Asthenia and Akallabêth from the UK. Both bands conjure up memories of 90's emo and post-hardcore, not just in sound but also in terms of energy and drive. If the cold, dark days and nights have you feeling down, then this might just help pick you up.

city of caterpillar - driving spain up a wall 12"
Repeater Records and Adagio830 Records are proud to announce that they are jointly releasing City Of Caterpillar's highly sought after song "Driving Spain Up A Wall" as a 12" EP. This 11 minute epic was never properly recorded during the band's initial existence and only a few live record...

crevasse - selftitled 12"
Four friends from the netherlands and germany who knew each other from their previous bands like Finisterre, Landverraad, Lawine and Leechfeast met up to creat a new ferocious project. After their demo this is their first output on vinyl. Expect six loud, fast and angry songs that somehow hard to p...

limp blitzkrieg - Wypierdalać 12"
A new band from Warsaw with (ex-)member of THE FIGHT, BAGNA, DRIP OF LIES, THE STUBS - playing straightfoward Hardcore/Punk/D-Beat with a clear radical, antifascist and feminist message.

weak ties - selftitled 12"
Raging new Powerviolence band from bielefeld. features members from other quality bands like UNRU and Sømerset. WEAK TIES combine fast, '80s-influenced hardcore, thrashing blast beats, female vocals and urgent lyrics on there first album. 12 Track - 16 Minutes. Think of PUNCH vs. HOLY in Charles B...

aureole of ash / jotnarr - split 7"
a demo split . Contains Jotnarrs "divide and the growth and stone" and a remastered version of Aureole of Ash "human Bankrup(t)cy" demo.

die abete - senza denti 12"
noisy chaotic math-core-rock with two drummers . Ffo lightning bolt , botch

duct hearts - feathers 12"
by placing their mid-90's emo/diy roots into modern postrock soundscapes duct hearts create a mix that is cryptic yet simple, mysterious yet heart-on-your-sleeve, loud yet fragile, beautiful yet raw.

hvosch - thornsmoat 12"
Formed in Russia in 2013, HVØSCH is a vegan five-piece band from Saint Petersburg that combines elements of doom, post-metal, and black-metal to create an endangered atmosphere in order to impart their narrative. The band intertwines ambient instrumental passages with invasive blast beats and unwa...


enter the RWP Distro
LATEST RELEASE RWP090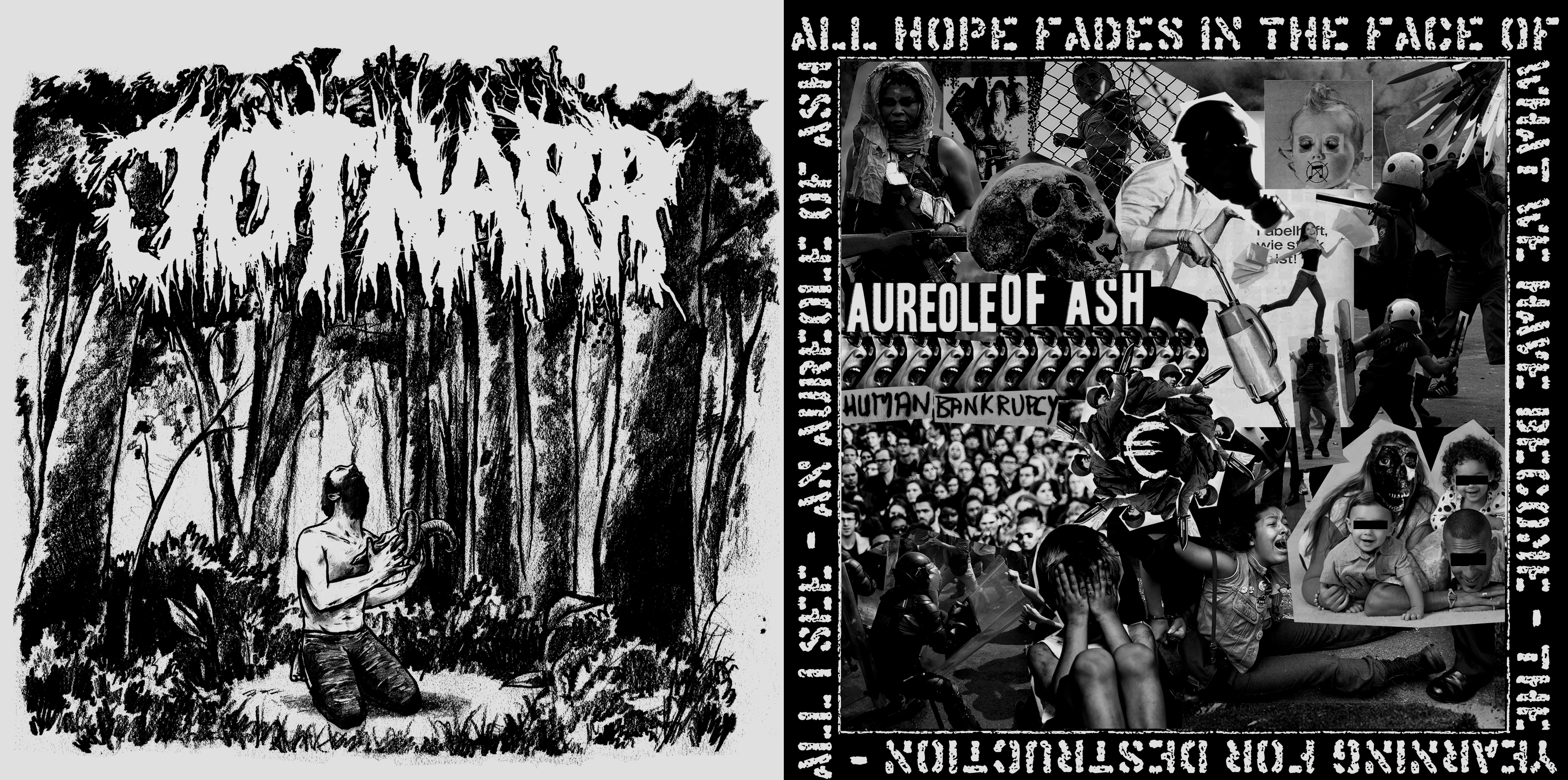 aureole of ash / jotnarr - split 7"
view all releases