| | | |
| --- | --- | --- |
| ultha | converging sins 2x12" | 18.00 € |
ULTHA's second full-length album 'CONVERGING SINS' is a 63 minute rumination on the subject matter of how past events and wrong decisions will echo throughout the rest of our mortal existance.Over years experiences of failure and the conscious ability to willingly commit mistakes, to hurt, to reject,to alternate truths etc. lead to a path where silence in and around you is the ultimate repercussion. Therecord is a testimony to everyday melancholia, inner solitude and the human struggle to lead the wrong life in the right, the struggle against your animalistic nature. On their second album ULTHA further their trademark sound of fast, hypnotic, reverberant Black Metal in a more US traditon played by acts such as Ash Borer, Weakling, Leviathan and Wolves In The ThroneRoom. It is combined with crushing Doom heaviness close to acts such as Lycus, Asunder and Forn while also blending in an overall hopeless and gloomy atmosphere mostly connected to Dark Wave bands suchas The Sisters Of Mercy and (early) The Cure. The 2016 EP 'DISMAL RUINS' already showed the path ULTHA follow, adding multiple layers of electronics and slower passages in focus on overall diversive,captivating songstructures in mix with their juggernaut sound. The five songs reach lengths up to almost 20minutes while still balancing repetition and settle nuances in riffs to manifest melodies like echoes in the listeners head. And this is a thing ULTHA were good at right from the start: Writing real songs with tons of melody without lacking heaviness and urging intensity. The focus is always on the overall flow and feel of the record. Therefore the music, the metaphorical, cryptic lyrics by main songwriter R.Schmidt as well as the artwork (envisioned by Kevin Gan Yuen of SutekhHexen fame) need to be treated as a whole entity. The songs we're once again recorded and mixed in the bands rehearsal space called 'The Oil Pit' by thebands own Andy Rosczyk in Cologne (Germany). Mastering duties this time were taken by Jack Shirley at his Atomic Garden studio (California), where he already formed the massive sound of bands such as Lycus, Oathbreaker and Deafheaven. On track No.2 'Mirrors In A Black Room' the band could win British native currently residing in Berlin (Germany), Rachel Davies of the acclaimed post-punk/wave band Esben And The Witch for guest vocals. But she not only sang but also co-wrote the lyrics to the song.
RECEIPT
2017-04-19

only 3 left !
| | | |
| --- | --- | --- |
| wet the rope | the sum of … 12" | 11.00 € |
"Wet The Rope is a hardcore band consisting of members of Pitchfork, Amber Inn, Sinker, Exhale and many others. It's members have been actively making music for almost 30 years. ""The Sum of Our Scars"" is their debut album, and while you can hear the influences of the members' previous bands, the anger of this LP may catch you by surprise. This album deals with the consequences of sexual abuse and predatory behavior. It is meant as both a personal and a political statement. 12 tracks of intense emotional pissed political hardcore!!!"
RECEIPT
2017-04-19

only 1 left !
| | | |
| --- | --- | --- |
| black table | obelisk 12" | 11.00 € |
Black Table are a four-piece band from New York that create their own take on experimental metal with a broad range of influences. The two-guitar outfit has been around since 2010 and played numerous shows across the United States including an extensive tour with Downfall of Gaia. With six years of existence under their belt, Black Table are thrilled to unleash their new monster OBELISK. In the whirlwind of chaos and complex rhythms that is OBELISK, atmospheric parts only leave you so much time to recover, before the frantic voice will send shivers through your spine over and over again. After Black Table successfully toured Europe in June, Moment Of Collapse Records (EU) and Silent Pendulum Reocrds (US) are proud to release OBELISK which is the second ever album after the band's 2012 debut Sentinel, in fall this year.
RECEIPT
2017-03-28

only 3 left !
| | | |
| --- | --- | --- |
| cranial | dark towers / bright lights 12" | 12.00 € |
"After arising from the ashes of the post-metal heavyweight Omega Massif in 2014, Cranial are now about to release their first longplayer "Dark Towers, Bright Lights" that combines 45 minutes of thick and heavy sludge and doom. When the four members of Omega Massif split up, their musical future was vague but soon Phantom Winter, Blacksmoker and lastly Cranial came to life. For the latter, Omega Massif's Michael Melchers (guitar) gathered Julian Weidhaus (bass and vocals), Cornelius Merlin (drums) and Sebastian Kröckel (guitar and vocals) to work on the fi rst material which was later recorded by Tobias Anderko in his Blank Disc Studio. The two songs were mixed and mastered in the Tonmeisterei in Oldenburg and later released as the band's first physical release. The "Dead Ends" EP came out in the end of 2015 via Moment of Collapse Records on CD and tape, while the vinyl version's appearance was enhanced with a screenprint on the B-side, a printed innersleeve and an inside out cover with a die-cut logo. The EP was highly praised by the international press which enabled the band to play the Droneburg-Festival among several other festivals and shows. In the summer of 2016, Cranial then booked the Tonmeisterei for a week to record the EP's successor "Dark Towers, Bright Lights" with Role Wiegener. Similar to the "Dead Ends" EP the four songs on "Dark Towers / Bright Lights" are gloomy, heavy and abundant with a threatening atmosphere. When there is a leitmotif on Cranial's latest release, then it is a muddy and bloody plow that draws relentlessly through everything that gets in its way! This beast of an album leads the listener through an almost cinematic dramaturgy by stacking soundscape on soundscape. In the face of these sonic monliths, the tension becomes almost unbearable. Only then Cranial crush them to ruins just to repeat the procedure. Again and again with no time for relaxation. With that "Dark Towers / Bright Lights" is highly recommendable for fans of Neurosis, Isis, Cult of Luna and the likes."
RECEIPT
2017-03-28

only 2 left !
| | | |
| --- | --- | --- |
| dawn rayd | a thorn / a blight 12" | 10.00 € |
A Thorn A Blight' is the highly anticipated debut release from Dawn Ray'd; having created a mix of melodic, epic and violent black metal, lyrically this EP snaps between being hearthbreakingly sad to unnervingly angry, a tension that even the folk song at the end of the record cannot ease. This is six songs of hatred, sadness and empowerment, that will rattle the nerves, and be an antifascist rallying cry to end nsbm once and for all.
RECEIPT
2017-03-28

only 1 left !
| | | |
| --- | --- | --- |
| autism | film noir 12" | 11.00 € |
"AUTISM is an instrumental Post-Rock/ Post-metal band from Vilnius, Lithuania. The band say this about this record: ""This album, sharing the same name as a cinematic genre, is driven by a mood of pessimism and menace. While working on this album, we decided to explore even more disturbing and uncomfortable topics. Alcoholism, drugs, physical and psychological abuse, manipulation…it is all a part of our everyday life. We have used real samples of some actual tragic life events to create a greater emotional impact to the listener and make him aware. This is not a casual album to listen to, but we believe that "Film Noir" will succeed to deliver the message we wanted to communicate."""
RECEIPT
2017-02-24

only 2 left !
| | | |
| --- | --- | --- |
| reactwithprotest | selftitled patch | 2.00 € |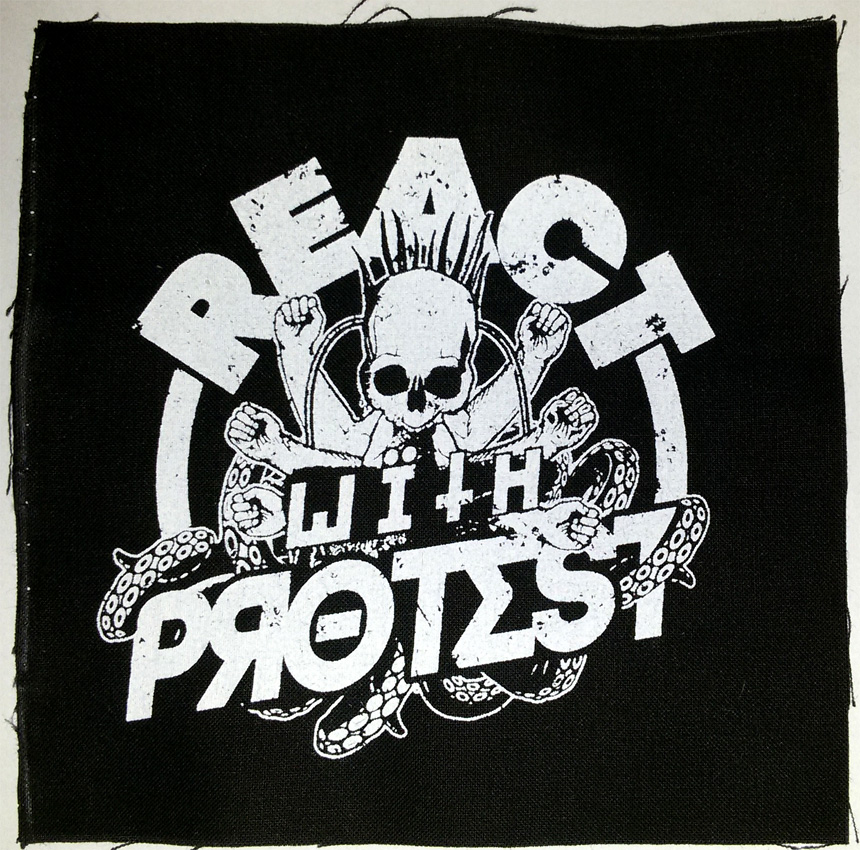 | | | |
| --- | --- | --- |
| tempano | discography tape | 5.00 € |
awesome and epic emociolence/screamo from spain.
RECEIPT
2017-02-24

only 1 left !
| | | |
| --- | --- | --- |
| antifaces | solo quedan fantasmas 7" | 5.00 € |
Latino punk outta Miami in the vein of Eskorbuto, Suicidas, or Tozcos. It hits that sweet spot of a perfect mix of melody and grit, with a bass heavy mix that hits hard, especially when the stomp kicks in. Duelling female/male vocals are all in Spanish and range from proper singing to pure punk filth. Members hail from Merkit and Nunhex.
RECEIPT
2017-02-01

only 3 left !
| | | |
| --- | --- | --- |
| closet burner | Disappointment, Death, Dishonor 12" | 8.00 € |
Bloomington's Closet Burner return with a full length of queer-positive, society bullshit negative hardcore. The sound is rooted in classic fast hardcore riffs, but not afraid to drop a dirge or a powerviolent blast in there. Lyrics are angry, to the point, and no holds barred, representing a refreshing return to actual anger and resistance in hardcore. Members share time in Rat Storm as well.
RECEIPT
2017-02-01

only 3 left !
Michigan once again belches forth another dose of venomous filth. Dakhma plays super heavy and raw black metal inspired punk with swirling riffs, punishing drums with a snare hand that won't quit, and hideous female vocals to top it all off. Occasional dark quiet passages allow you a moment here and there to breathe, but expect intensity in the vein of Cloud Rat gone black metal. No pretension, no act, just pure punk filth. These are screenprinted on inside out unused record covers to minimize resource use.
RECEIPT
2017-02-01

only 1 left !
| | | |
| --- | --- | --- |
| saligia | the new innocence 10" | 9.00 € |
| | | |
| --- | --- | --- |
| dead instrument / meth drinker | split 7" | 5.00 € |
Crushing sludge from New Zealand, well known from two full lenghts as well splits with Open Tomb, Moloch, Leechfeast. Much in vein of Noothgrush or Dystopia. On th flip side three short outbursts of sheer grindcore brutality from Denmark, like The Kill, Assuck!!!
RECEIPT
2016-11-01

only 1 left !
| | | |
| --- | --- | --- |
| japanische kampfhörspiele | deutschland von vorne 2 12" | 10.00 € |
"deutschland von vorne II" compiles 11 cover-versions of classic german punk-rock tracks (EXTRABREIT, HAMMERHEAD, KNOCHENFABRIK, S.Y.P.H., TOXOPLASMA to name a few) from the last decades interpreted by JAPANISCHE KAMPFHÖRSPIELE. Featuring loads of guest vocalists.
RECEIPT
2016-11-01

only 2 left !
| | | |
| --- | --- | --- |
| lawine / remek | split 12" | 8.00 € |
Lawine is Nijmegen based band with an interesting twist. Very emotional post hardcore with a touch of Neil Young & Jimi. Remek hail from the Czech Republic and deliver harsh, powerful emo. Gruff vocals complement the chaos as they perfectly blend the swirly emo chaos sound with heavier hardcore.
RECEIPT
2016-11-01

only 1 left !
| | | |
| --- | --- | --- |
| leechfeast / meth drinker | split 12" | 10.00 € |
Leechfeast kick things off with a nine-minute funeral crawl through a hellish slime bog. Ten minutes in, influences as diverse as Whindhand, Electric Wizard, Moss and Cough come together to encase the listener in a completely doomed and sulfurous sarcophagus of feedback. Ten drooping, oozing minutes of slow and rotting descent into complete stoner/doom psychedelic coma. A track that is more a trip than anything else. Absolutely harrowing in its putrid immensity. Meth Drinker steers the heaviness from the psychedelic and intoxicated realm of things that Leechfeast subjugated us to, into the territory of the completely wretched, misanthropic and malignant. Their track titled "Sewer" opens up with an evil and corroded bass drone, before picking up the pace and shoving the listener's head into a vat of putrid bile with immense pounding force. Standing somewhere between Iron Monkey, Eyehategod, Corrupted, Primitive Man and Buzzoven, these three sonic sociopaths from New Zealand are the authors of some of the most hateful, evil and fucking malignant sludge ever to reach human ear. Nothing of this band's music shows any will to be refined or showcase any kind of aesthetics. These riffs are just total and utter disgust. Vile, crude and morbid slabs of hate, pounding the listener's skull into a pulp of suffocating hate.
RECEIPT
2016-11-01

only 2 left !
| | | |
| --- | --- | --- |
| memorial / nailed | split 7" | 5.00 € |
two malaysian heavyweights . Dark and destructive hardcore / powerviolence ffo nails or ceremony
RECEIPT
2016-11-01

only 2 left !
| | | |
| --- | --- | --- |
| sickmark / constraint | split 7" | 5.00 € |
Constraint hails from Philadelphia, Pennsylvania and plays a blistering hybrid of metallic grind-punk that's just plain brutal. These guys construct walls of distortion-soaked riffs, muddy bass noise, blasting drum insanity and roaring vocals. Germany's Sickmark with righteously misanthropic powerviolence in the vein of Iron Lung or Scapegoat.
RECEIPT
2016-11-01

only 3 left !
| | | |
| --- | --- | --- |
| tiger magic | if nothing works out at least i do 12" | 10.00 € |
"if nothing works out at least i do" is the 2nd full-length by these girls and boys from Leipzig, Germany. Imagine a record as sweet as the new oreo cake with a big portion of sweet whipped cream on top - and as sad as you get when it's all eaten up. These 7 songs will remind you of your favorite emo-mixtape. At least they developed their '90s post-punk and screamo-sound further and put some gimmicks on vinyl.
RECEIPT
2016-11-01

only 1 left !
| | | |
| --- | --- | --- |
| age of collapse | deteriorate 7" | 3.00 € |
Age of Collapse have crafted a very experimental take on crust; blurring lines and sometimes toppling over into completely different musical realms. Their sound is personified by large, crushing distortion, chaotic tempo changes and haunting, reverb drenched cleans. Fast paced punk inspired riffs meld with harmonizing guitars more traditionally reserved for NWOBHM. Whether it be brutal, passionate or furious, Age of Collapse have carved their own niche and sound into the hardcore genre.
RECEIPT
2016-10-22

only 3 left !
| | | |
| --- | --- | --- |
| backslider | motherfucker 12" | 10.00 € |
Finally, a sonic eruption of full length brutality from Philadelphia's Backslider. Encapsulating the last 15 years of extreme musical devastation in one album, Backslider has drawn on their influences and expanded their doom-laden attack to unleash a hell storm of massive musical terror. Combining the blasting mayhem of early power violence (think Man Is The Bastard and Crossed Out) with the bludgeoning power doom of Eyehategod, Backslider have laid down a monument to lay waste to the current extreme music scene.
RECEIPT
2016-10-22

only 2 left !
| | | |
| --- | --- | --- |
| coma regalia / what of us | split 12" | 11.00 € |
What Of Us is a four piece band featuring members of In First Person, Black Kites, Less Life, Capacities, Au Revoir and Guidelines. What Of Us play a volatile and chaotic style of music that incorporates elements of hardcore, punk, and screamo. Musically, What Of Us can be said to be influenced by bands such as Pg. 99, Ampere, Orchid, and other like-minded bands. On their side of the split, What Of Us offer up eight tracks of volatile and brutal as fuck sounding hardcore, punk, and screamo. Coma Regalia is a five piece band from Indiana who formed in 2010. Coma Regalia play a killer style of music that incorporates elements of hardcore, punk, and screamo within their sound. Musically, Coma Regalia can be loosely compared to bands such as The Saddest Landscape, Capacities, Beau Navire, and Todos Caeran.
RECEIPT
2016-10-22

only 2 left !
| | | |
| --- | --- | --- |
| crime department | exhibit 7" | 5.00 € |
Punk band with members of Adorno, from New York City. Many influences come from new wave, post punk and alternative rock.
RECEIPT
2016-10-22

only 3 left !
| | | |
| --- | --- | --- |
| dark circles / abstracter | split 12" | 10.00 € |
Abstracter is a blackened sludge-doom band with crust influences hailing from Oakland CA, founded in 2010 by Robin Kahn and Mattia Alagna with the intent of creating the darkest, bleakest, and most punishing music they could come up with. Influenced by legendary bands like Swans, Amebix, Godflesh, Corrupted, His Hero Is Gone, and Blut Aus Nord. Abstracter has shared a stage with bands like Bell Witch, Mass Grave, Noothgrush, Buried At Sea, Unearthly Trance, Acephalix, Sleep, Graves At Sea and many more, presenting the world with their own brand of apocalyptic, hopeless and darkness-fueled music driven by crushing, grim, and dissonant guitar work, apocalyptic themes and lyrical content, and absolutely blood-freezing and plague-ridden atmospheres. Dark Circles is a three piece band from Montreal, Canada who formed in early 2013. Dark Circles play a dark, metallic, and crust tinged style of hardcore. Musically, Dark Circles can be loosely compared to bands such as Hexis, Svffr, Holy, and other-like minded bands. On their side of the split, Dark Circles offer up four tracks of brutal as fuck sounding blackened/crust tinged modern hardcore.
RECEIPT
2016-10-22

only 2 left !
| | | |
| --- | --- | --- |
| deathgrave / augurs | split 7" | 5.00 € |
Deathgrave is a new project from Amber Asylum bassist Fern and Greg Wilkinson, the master sound engineer behind Oakland's Earhammer Studios and bassist in Brainoil (ex-Graves At Sea, ex-Laudanum) who's stepped away form his recent doom dealings to spit out some truly virulent grind. The tone alone will knock you on your ass, and coupled with Augurs' nasty, sludge-encrusted black grind, this split might just be one of 2015's best underground gems.
RECEIPT
2016-10-22

only 3 left !
| | | |
| --- | --- | --- |
| la luna | always ready tape | 5.00 € |
La Luna play a dark and aggressive brand of screamo akin to Ampere or Loma Prieta, with the technical side of things leaning towards Off Minor.
RECEIPT
2016-10-22

only 1 left !
| | | |
| --- | --- | --- |
| lambs | betrayed from birth 12" | 10.00 € |
"LAMBS is an Italian sludge/crust band of a really evil, filthy, and terrifying variety. If you enjoy Ancst, Celeste, etc, don't even hestitate and give Lambs a try, you won't be disappointed! "
RECEIPT
2016-10-22

only 2 left !
| | | |
| --- | --- | --- |
| moro moro land | through 12" | 10.00 € |
MORO MORO LAND is the absolutely terrifying tenebris. A furious number with black-metal-esque bile and a palpable sense of anger. The truth is that they deliver an ultraviolent music in the wake of great bands like CELESTE, SHORA or DEATHSPELL OMEGA. Even if the point isn't to produce the most inovative shit, MORO MORO LAND manages to blow everything on its way. No silence, no compromise.
RECEIPT
2016-10-22

only 2 left !
| | | |
| --- | --- | --- |
| morrow | covenant of teeth 12" | 10.00 € |
Brooding, dark and sombre melodic crust in the vein of Ictus and Fall of Efrafa, vast resonant guitars and cello over thundering D-beat, invoking mythologies of remnant cultures amongst the ruins of our civilisation, the earthen liturgy of forests and ice scapes. Morrow are a collective of friends from all over the world, and features guest vocals from members of Masakari, Monachus, Wildspeaker, Archivist and Anopheli.
RECEIPT
2016-10-22

only 1 left !
| | | |
| --- | --- | --- |
| piri reis / coma regalia | split 10" | 11.00 € |
"Coma Regalia comes full circle with this new split with Piri Reis which features ex members of Quantis with whom they did their very first split! 4 songs by Piri Reis in legendary vein of Utarid/Kias Fansuri/Daghila and 7 songs by Coma Regalia."