| | | |
| --- | --- | --- |
| knife hits | eris 12" | 11.00 € |
Knife Hits features members of Backslider and ex-members of Khann and Republicorpse. Knife Hits play a killer style of music that incorporates elements of hardcore, punk, screamo, and grindcore. Musically, Knife Hits cite Orchid, Pg. 99, Loma Prieta, Converge, Hassan I Sabbah, Swarm of the Lotus, and Ampere as influences, which definitely shows up in the band's sound and style. Since forming in 2014, Knife Hits have releaseda four song, self-titled tour cassette in March of 2016. Eris is the band's debut full-length LP, which was released via Hydrogen Man, Dead Tank, and Give Praise records on September 16th, 2016. On Eris, Knife Hits offer up ten tracks of chaotic, volatile, and brutal as fuck sounding hardcore, punk, screamo, and grindcore.
RECEIPT
2017-08-04

only 2 left !
| | | |
| --- | --- | --- |
| of feather and bone | false healer 12" | 11.00 € |
"Of Feather and Bone = Trap Them + Disembodied + Torch Runner There is heavy music, and then there's heavy music that makes you want to put your fist through a wall. Of Feather and Bone's False Healer is one of them. There is plenty of fast, crusty goodness on this release, but it's the understanding of how to tastefully integrate an artistically motivated breakdown that really sets it apart. This may seem inconsequential, but there is a big difference between a cathartic release and bro-mosh, and these guys get it. Sure,Of there are legions of crusty dark hardcore bands cropping up daily, but it's the guitar flourishes, vocal style, intensity and integration of other elements of hardcore in Of Feather and Bone's sound that make them stand apart. These six tracks go hard, and are another testament to the excellent heavy music coming out of Denver right now. I look forward to what these guys have next."
RECEIPT
2017-08-04

only 2 left !
| | | |
| --- | --- | --- |
| rorcal | creon 2x12" | 18.00 € |
Us import . Slightly bend corner .Three years after the monstruous and blackened "Világvége", RORCAL is back with a brand new full length entitled "CREON". Again, this new beast is showing a different face of the band by the mean of 4 hellish tracks for more than 50 minutes of music. Furious, but also melodic, these new songs display a wild range of atmosphere, each one serving the purpose of an epic story. Yes, it's the death of 4 well known Greek characters, all linked to Creon, that are narrated in this new concept album. Punishing blast beats, heavy riffs, progressive structures expressed through brilliant song writing, possessed vocals ; everything is here reunited to create a new level of insanity in the field of extreme music. This 4th full length, recorded in three days in live conditions by Steph Kroug and mixed in Sweden by Daniel Bergstrand, is a journey nobody could have dreamed of. Let the magic do its job, let yourself drown in this beautiful and savage piece of aggression.  
RECEIPT
2017-08-04

only 3 left !
| | | |
| --- | --- | --- |
| subjects rulers | selftitled tape | 3.00 € |
" Subjects Rulers were a short lived project out of Nashville with folks from Cease Upon the Capitol and Dolcim. They recorded this full length then spread out across the country, leaving us this lovely little tape as a document of their existence. This is expertly executed screamo with just the right amount of chaos, massive, uplifting passages, dynamic drumming and powerful vocals. These guys have been doing this a long time and it shows. "
RECEIPT
2017-08-04

only 2 left !
| | | |
| --- | --- | --- |
| weak wrists | selftitled 12" | 11.00 € |
" Asheville NC's Weak Wrists bring together elements of emo-violent swirl in the finest Orchid tradition, soaring post-metal passages that would make Old Soul proud, the textured and dynamic drums of Funeral Diner, and a bedrock of grinding filth with torn-throat female vocals for the Cloud Rat enthusiast among us. All these things weave and intermingle flawlessly and are executed with passion. "
RECEIPT
2017-08-04

only 1 left !
| | | |
| --- | --- | --- |
| wymyns prysyn | head in a vise 12" | 11.00 € |
This Atlanta trio totally nails that raw punk rock sound perfected by bands like The Wipers and Hot Snakes. Wymyns Prysyn take that approach and add a thick and twisted layer of noise to the mix, leaving just enough air for the underlying melodies to permeate through. The lyrics are bleak and misanthropic, and are matched by some sick guitar riffs that are genuinely eerie at times. Released by Drugged Conscience Records, whose name accurately conveys the overall feel of this record. Highly fucking recommended!
RECEIPT
2017-08-04

only 2 left !
| | | |
| --- | --- | --- |
| art of burning water / nervous mothers | split 7" | 4.00 € |
Creating a union of ferocity sure to see walls tumble and bodies scarred, SuperFire and Vleesklak Records are joint unleashing a Split 7" featuring the raw hardcore animosity of Nervous Mothers and Art Of Burning Water. It is a four track fury taking no prisoners as it rages and abrases the senses. It is also a thoroughly agreeable slab of carnal punk from two bands not too hard to fancy hear plenty more from. AOBWs Rhythms are hypnotic, the guitars toxic, whilst vocals spill rancor with every syllable; a blend which just hits the spot as it nags, intimidates, and stirs up another twang of hunger in the appetite. NM Raging Powerviolence from Antwerp, Belgium
RECEIPT
2017-07-07

only 3 left !
| | | |
| --- | --- | --- |
| art of burning water / nothing clean | split 7" | 4.00 € |
Raging messed up powerviolence thrash from Leicester does battle with the long-running London mangled hardcore punkers
RECEIPT
2017-07-07

only 3 left !
| | | |
| --- | --- | --- |
| birushinah | Makyo 2x12" | 18.00 € |
Birushanah are a Japanese band who play music that has elements of epic doom, post-hardcore, frenzied grind, some out there jazz elements and a whole lot of other things all mixed up in their varied sound. Makyo is the sound of a band making noise on their own terms and doing it with a mixture of style and disorder.
RECEIPT
2017-07-07

only 1 left !
| | | |
| --- | --- | --- |
| mrtex | untitled tape | 4.00 € |
"This is a very special and limited physical-only release cassette numbered out of 70 by Sweden's Vi älskade varandra så mycket (1 new track) and the Canada/US collaboration that is мятеж. Emotionally exhausting and epic screamo meets a peculiar balance of ambiance and powerviolence. 70 aqua tapes that come in a foldover paper cover with мятеж lyrics on the inside, all housed in a plastic, resealable sleeve. 1 song by Vi älskade varandra så mycket and 3 songs by мятеж."
RECEIPT
2017-07-07

only 2 left !
| | | |
| --- | --- | --- |
| mrtex / kelut | split 12" | 10.00 € |
"MRTEX is an project that consists of Chris Story (ex-Makara, Jenny Piccolo, Yaphet Kotto, The Anasazi and Anal Knievel) on...everything instrumental and David Norman (ex-The World That Summer) on vocals. This split 12"" is a mixture of songs recorded by Chris over the last three years that are assembled into a much more ambient and atmospheric mix when compared to the groups other releases. KELUT is, for lack of a more succinct synopsis, the next step for the majority of members from Yusuke. Gone are the pretty, noodly and more Saetia sounding sections, as the band goes apeshit here with five tracks of mind-numbing and ear-splitting screamy, dark hardcore."
RECEIPT
2017-07-07

only 3 left !
| | | |
| --- | --- | --- |
| plural beeing | demo tape | 4.00 € |
Plural Being is a Fort Meyers based band who formed in 2016. Plural Being features members of Merkit and Panzram, so going on that alone, you know you're in for some killer tunes. Plural Being play an ugly, raw, and blown-out noise damaged punk. This is the band;s debut five song demo cassette, which was released via IFB records on December 8th, 2016. On their debut demo, Plural Being offer up five tracks of killer noise damaged/off-kilter punk music that's an absolute must listen for fans of Throat, Brown Sugar, Milk Music, Slices, and other like-minded bands.
RECEIPT
2017-07-07

only 2 left !
| | | |
| --- | --- | --- |
| cloud rat / moloch | split 12" | 10.00 € |
Witness the blessed union of Cloud Rat - the genre-bending, grind-doom-noise-punk-metal phenoms - and the UK's Moloch, who continue to be truly excellent purveyors of tense, rancid sludge forged in the grand Northern English tradition. Moloch contributes two mammoth tracks whose resolute dedication to hammering out the most distorted, decimating doom possible add an interesting balance to Cloud Rat's tendency to flit from genre to genre like extremely pissed antifascist hummingbirds
BAND INFO
cloud rat
RECEIPT
2017-04-19
only 3 left !
| | | |
| --- | --- | --- |
| negative standards | fetters 12" | 10.00 € |
"finally, the 2nd album by california's NEGATIVE STANDARDS a bulldozer attack, mixing the meanest parts of sludge & blackened crust... adding noise and some black metal riffing, that's the bastard-son called negative standards"
RECEIPT
2017-04-19

only 2 left !
| | | |
| --- | --- | --- |
| ruined families | education 12" | 11.00 € |
RECEIPT
2017-04-19

only 1 left !
| | | |
| --- | --- | --- |
| ultha | converging sins 2x12" | 18.00 € |
ULTHA's second full-length album 'CONVERGING SINS' is a 63 minute rumination on the subject matter of how past events and wrong decisions will echo throughout the rest of our mortal existance.Over years experiences of failure and the conscious ability to willingly commit mistakes, to hurt, to reject,to alternate truths etc. lead to a path where silence in and around you is the ultimate repercussion. Therecord is a testimony to everyday melancholia, inner solitude and the human struggle to lead the wrong life in the right, the struggle against your animalistic nature. On their second album ULTHA further their trademark sound of fast, hypnotic, reverberant Black Metal in a more US traditon played by acts such as Ash Borer, Weakling, Leviathan and Wolves In The ThroneRoom. It is combined with crushing Doom heaviness close to acts such as Lycus, Asunder and Forn while also blending in an overall hopeless and gloomy atmosphere mostly connected to Dark Wave bands suchas The Sisters Of Mercy and (early) The Cure. The 2016 EP 'DISMAL RUINS' already showed the path ULTHA follow, adding multiple layers of electronics and slower passages in focus on overall diversive,captivating songstructures in mix with their juggernaut sound. The five songs reach lengths up to almost 20minutes while still balancing repetition and settle nuances in riffs to manifest melodies like echoes in the listeners head. And this is a thing ULTHA were good at right from the start: Writing real songs with tons of melody without lacking heaviness and urging intensity. The focus is always on the overall flow and feel of the record. Therefore the music, the metaphorical, cryptic lyrics by main songwriter R.Schmidt as well as the artwork (envisioned by Kevin Gan Yuen of SutekhHexen fame) need to be treated as a whole entity. The songs we're once again recorded and mixed in the bands rehearsal space called 'The Oil Pit' by thebands own Andy Rosczyk in Cologne (Germany). Mastering duties this time were taken by Jack Shirley at his Atomic Garden studio (California), where he already formed the massive sound of bands such as Lycus, Oathbreaker and Deafheaven. On track No.2 'Mirrors In A Black Room' the band could win British native currently residing in Berlin (Germany), Rachel Davies of the acclaimed post-punk/wave band Esben And The Witch for guest vocals. But she not only sang but also co-wrote the lyrics to the song.
RECEIPT
2017-04-19

only 1 left !
| | | |
| --- | --- | --- |
| wet the rope | the sum of … 12" | 11.00 € |
"Wet The Rope is a hardcore band consisting of members of Pitchfork, Amber Inn, Sinker, Exhale and many others. It's members have been actively making music for almost 30 years. ""The Sum of Our Scars"" is their debut album, and while you can hear the influences of the members' previous bands, the anger of this LP may catch you by surprise. This album deals with the consequences of sexual abuse and predatory behavior. It is meant as both a personal and a political statement. 12 tracks of intense emotional pissed political hardcore!!!"
RECEIPT
2017-04-19

only 1 left !
| | | |
| --- | --- | --- |
| black table | obelisk 12" | 11.00 € |
Black Table are a four-piece band from New York that create their own take on experimental metal with a broad range of influences. The two-guitar outfit has been around since 2010 and played numerous shows across the United States including an extensive tour with Downfall of Gaia. With six years of existence under their belt, Black Table are thrilled to unleash their new monster OBELISK. In the whirlwind of chaos and complex rhythms that is OBELISK, atmospheric parts only leave you so much time to recover, before the frantic voice will send shivers through your spine over and over again. After Black Table successfully toured Europe in June, Moment Of Collapse Records (EU) and Silent Pendulum Reocrds (US) are proud to release OBELISK which is the second ever album after the band's 2012 debut Sentinel, in fall this year.
RECEIPT
2017-03-28

only 3 left !
| | | |
| --- | --- | --- |
| cranial | dark towers / bright lights 12" | 12.00 € |
"After arising from the ashes of the post-metal heavyweight Omega Massif in 2014, Cranial are now about to release their first longplayer "Dark Towers, Bright Lights" that combines 45 minutes of thick and heavy sludge and doom. When the four members of Omega Massif split up, their musical future was vague but soon Phantom Winter, Blacksmoker and lastly Cranial came to life. For the latter, Omega Massif's Michael Melchers (guitar) gathered Julian Weidhaus (bass and vocals), Cornelius Merlin (drums) and Sebastian Kröckel (guitar and vocals) to work on the fi rst material which was later recorded by Tobias Anderko in his Blank Disc Studio. The two songs were mixed and mastered in the Tonmeisterei in Oldenburg and later released as the band's first physical release. The "Dead Ends" EP came out in the end of 2015 via Moment of Collapse Records on CD and tape, while the vinyl version's appearance was enhanced with a screenprint on the B-side, a printed innersleeve and an inside out cover with a die-cut logo. The EP was highly praised by the international press which enabled the band to play the Droneburg-Festival among several other festivals and shows. In the summer of 2016, Cranial then booked the Tonmeisterei for a week to record the EP's successor "Dark Towers, Bright Lights" with Role Wiegener. Similar to the "Dead Ends" EP the four songs on "Dark Towers / Bright Lights" are gloomy, heavy and abundant with a threatening atmosphere. When there is a leitmotif on Cranial's latest release, then it is a muddy and bloody plow that draws relentlessly through everything that gets in its way! This beast of an album leads the listener through an almost cinematic dramaturgy by stacking soundscape on soundscape. In the face of these sonic monliths, the tension becomes almost unbearable. Only then Cranial crush them to ruins just to repeat the procedure. Again and again with no time for relaxation. With that "Dark Towers / Bright Lights" is highly recommendable for fans of Neurosis, Isis, Cult of Luna and the likes."
RECEIPT
2017-03-28

only 2 left !
| | | |
| --- | --- | --- |
| dawn rayd | a thorn / a blight 12" | 10.00 € |
A Thorn A Blight' is the highly anticipated debut release from Dawn Ray'd; having created a mix of melodic, epic and violent black metal, lyrically this EP snaps between being hearthbreakingly sad to unnervingly angry, a tension that even the folk song at the end of the record cannot ease. This is six songs of hatred, sadness and empowerment, that will rattle the nerves, and be an antifascist rallying cry to end nsbm once and for all.
RECEIPT
2017-03-28

only 1 left !
| | | |
| --- | --- | --- |
| autism | film noir 12" | 11.00 € |
"AUTISM is an instrumental Post-Rock/ Post-metal band from Vilnius, Lithuania. The band say this about this record: ""This album, sharing the same name as a cinematic genre, is driven by a mood of pessimism and menace. While working on this album, we decided to explore even more disturbing and uncomfortable topics. Alcoholism, drugs, physical and psychological abuse, manipulation…it is all a part of our everyday life. We have used real samples of some actual tragic life events to create a greater emotional impact to the listener and make him aware. This is not a casual album to listen to, but we believe that "Film Noir" will succeed to deliver the message we wanted to communicate."""
RECEIPT
2017-02-24

only 2 left !
| | | |
| --- | --- | --- |
| reactwithprotest | selftitled patch | 2.00 € |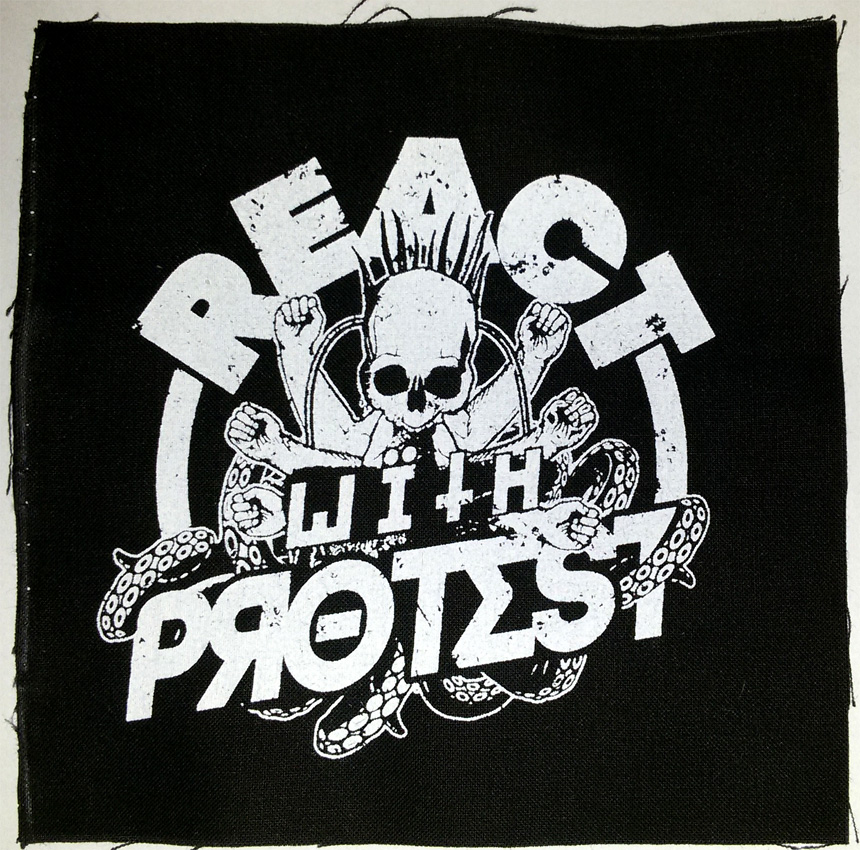 | | | |
| --- | --- | --- |
| tempano | discography tape | 5.00 € |
awesome and epic emociolence/screamo from spain.
RECEIPT
2017-02-24

only 1 left !
| | | |
| --- | --- | --- |
| antifaces | solo quedan fantasmas 7" | 5.00 € |
Latino punk outta Miami in the vein of Eskorbuto, Suicidas, or Tozcos. It hits that sweet spot of a perfect mix of melody and grit, with a bass heavy mix that hits hard, especially when the stomp kicks in. Duelling female/male vocals are all in Spanish and range from proper singing to pure punk filth. Members hail from Merkit and Nunhex.
RECEIPT
2017-02-01

only 3 left !
| | | |
| --- | --- | --- |
| closet burner | Disappointment, Death, Dishonor 12" | 8.00 € |
Bloomington's Closet Burner return with a full length of queer-positive, society bullshit negative hardcore. The sound is rooted in classic fast hardcore riffs, but not afraid to drop a dirge or a powerviolent blast in there. Lyrics are angry, to the point, and no holds barred, representing a refreshing return to actual anger and resistance in hardcore. Members share time in Rat Storm as well.
RECEIPT
2017-02-01

only 3 left !
| | | |
| --- | --- | --- |
| saligia | the new innocence 10" | 9.00 € |
| | | |
| --- | --- | --- |
| japanische kampfhörspiele | deutschland von vorne 2 12" | 10.00 € |
"deutschland von vorne II" compiles 11 cover-versions of classic german punk-rock tracks (EXTRABREIT, HAMMERHEAD, KNOCHENFABRIK, S.Y.P.H., TOXOPLASMA to name a few) from the last decades interpreted by JAPANISCHE KAMPFHÖRSPIELE. Featuring loads of guest vocalists.
RECEIPT
2016-11-01

only 2 left !
| | | |
| --- | --- | --- |
| leechfeast / meth drinker | split 12" | 10.00 € |
Leechfeast kick things off with a nine-minute funeral crawl through a hellish slime bog. Ten minutes in, influences as diverse as Whindhand, Electric Wizard, Moss and Cough come together to encase the listener in a completely doomed and sulfurous sarcophagus of feedback. Ten drooping, oozing minutes of slow and rotting descent into complete stoner/doom psychedelic coma. A track that is more a trip than anything else. Absolutely harrowing in its putrid immensity. Meth Drinker steers the heaviness from the psychedelic and intoxicated realm of things that Leechfeast subjugated us to, into the territory of the completely wretched, misanthropic and malignant. Their track titled "Sewer" opens up with an evil and corroded bass drone, before picking up the pace and shoving the listener's head into a vat of putrid bile with immense pounding force. Standing somewhere between Iron Monkey, Eyehategod, Corrupted, Primitive Man and Buzzoven, these three sonic sociopaths from New Zealand are the authors of some of the most hateful, evil and fucking malignant sludge ever to reach human ear. Nothing of this band's music shows any will to be refined or showcase any kind of aesthetics. These riffs are just total and utter disgust. Vile, crude and morbid slabs of hate, pounding the listener's skull into a pulp of suffocating hate.
RECEIPT
2016-11-01

only 2 left !
| | | |
| --- | --- | --- |
| memorial / nailed | split 7" | 5.00 € |
two malaysian heavyweights . Dark and destructive hardcore / powerviolence ffo nails or ceremony
RECEIPT
2016-11-01

only 2 left !
| | | |
| --- | --- | --- |
| sickmark / constraint | split 7" | 5.00 € |
Constraint hails from Philadelphia, Pennsylvania and plays a blistering hybrid of metallic grind-punk that's just plain brutal. These guys construct walls of distortion-soaked riffs, muddy bass noise, blasting drum insanity and roaring vocals. Germany's Sickmark with righteously misanthropic powerviolence in the vein of Iron Lung or Scapegoat.
RECEIPT
2016-11-01

only 3 left !