Grinding Halt Hammers Her Breath On Glass Hungry Lungs jotnarr J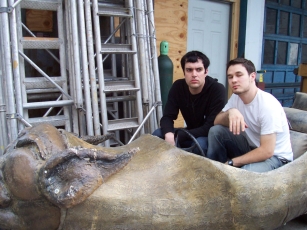 Band Members
Aaron
Andy
About
her breath on glass is a band consisting of two people, aaron on the drums and andy on the guitar and screaming the vocals. their sound can be described to be emo with intense guitarwork and urgent, highly emotional vocals. the songs are both chaotic and melodic. after an amazing split 7" with we are corpses they released an emotional outbreak with the "building monuments to survival"-called full-length on react with protest records. in the end of the summer 2006 they released a beautiful one-sided picture split 7" with danse macabre. during this time they also toured europe (mainly germany and the uk). moreover there is a new split 12" with championship just released these days. andy says the following about the band:"her breath on glass is a band i started basically because with these long periods of inactivity with the saddest landscape i was getting a build up of songs so i wanted to find another way to get them out. this isnt to say her breath on glass is the same as tsl but it is similar in a number of ways. but we have been together for about a year and have put out a split 7", and have an lp that just came out on react with protest / ramen factory / and nimbus module. and we have plans to come to europe later this year as well as do a another 7" and there are a couple comps coming out as well."(this quote was done shortly before the release of the split with danse macabre and their european tour). also note that the saddest landscape is back on track since early 2010!
http://www.myspace.com/herbreathonglass
RWP Releases


RWP 022
--------------
Emo Apocalypse Compilation 12"
with
a lot of other great bands

RWP 019
--------------
Building Monuments to Survival 7"